The rooms at the Kloster Holzen seminar hotel:
flooded with light, spacious ... and with plenty of surprises!
11 rooms are available for your conference, congress, product presentation or your seminar at Kloster Holzen. Select exactly the right light-filled room for your event at our conference hotel. All the rooms are equipped with the latest conferencing equipment. Ergonomic tables and chairs allow a working atmosphere in which you can both concentrate and relax in. As modern as the rooms at the seminar hotel are, they also point to its history-charged past ...
Spaces that inspire – at the Kloster Holzen seminar hotel
During a break you can discover the historical monastery library with its bibliophile treasures from the 17th and 18th centuries that fill the antique wall cabinets. The spirit of past generations of Benedictine nuns that can be felt here brings to mind the significance of education, scholarship and discipline.
One very special feature in the Hildegard Hall at the Kloster Holzen seminar hotel: a seminar room designed with clear simplicity in mind and surmounted with a filigree ornate stucco ceiling – and one which is accented with several gilded statues of saints. This is a room which brings together modern and traditional, secular and ecclesiastical, business and art and thus provides impetus for dialogue.
Or perhaps you would like to organise an event that is more festive? In that case, we recommend the Salzburg Hall furnished with parquet floors, stucco ceilings and chandeliers...
The rooms at the Kloster Holzen seminar hotel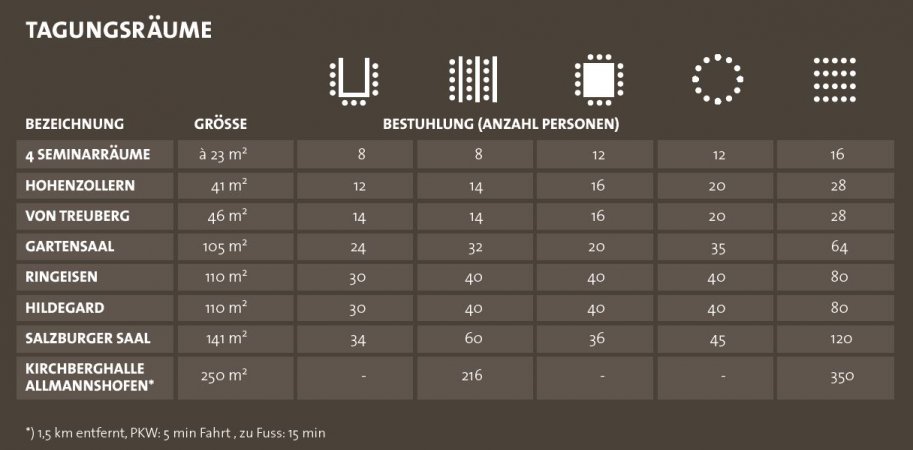 We are happy to provide seating arrangements according to your special wishes here at the Kloster Holzen seminar hotel.
Cosy places for creative processes
Some work processes "thrive" when performed in the open air, for example, creative meetings or meetings in small groups in a more private atmosphere. Or host your meeting under apple trees or in one of the monastery courtyards. We would be delighted to organise your "open air meetings" within the grounds of the seminar hotel.
Modern technology for your seminar or meeting at the Kloster Holzen
All the seminar rooms are luxuriously furnished and are technically up to date and have the following equipment:
Flipcharts
Whiteboard with projector
Pin boards
Mobile screen
Presentation case
Overhead projector
CD player, DVD player
Modern flat-screen TV
Notebook
Lectern
Conferencing phone
NEW: interactive smart board
Of course, we will gladly support you in the planning and organisation of your event – whether a conference, product presentation or seminar – at the Kloster Holzen. We look forward to you getting in touch.