Exceptional stays
Comfort in Kloster Holzen
Sleepwell, dream away and wake up recuperated
It is our great concern to create a place of complete peace and relaxation with Kloster Holzen. This also includes a balanced night's rest.
The best prerequisite for this is the wonderfully elevated, secluded location of the hotel, surrounded by peaceful nature. The soft twittering of birds and the buzzing of bees in the monastery garden are anything but a rarity and offer our guests a unique feeling of peace and quiet.
With further extras and feel-good offers we want to emphasize your stay of comfortable and above all healthy sleep.
Comfort services included
Resting comfortably
Neck-shoulder or neck-spine support pillows on request with 3 different degrees of hardness
Special room choice: Genuine natural materials and wooden floors in almost all rooms
Small lavender pouch for relaxed sleep (also to take home)
Allergy friendly bed linen on request
Radiation-free living and sleeping on personal request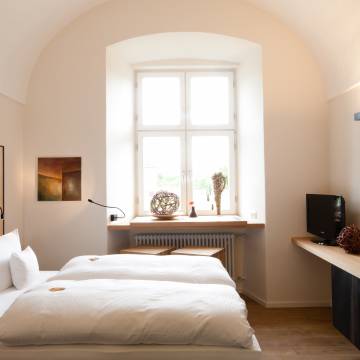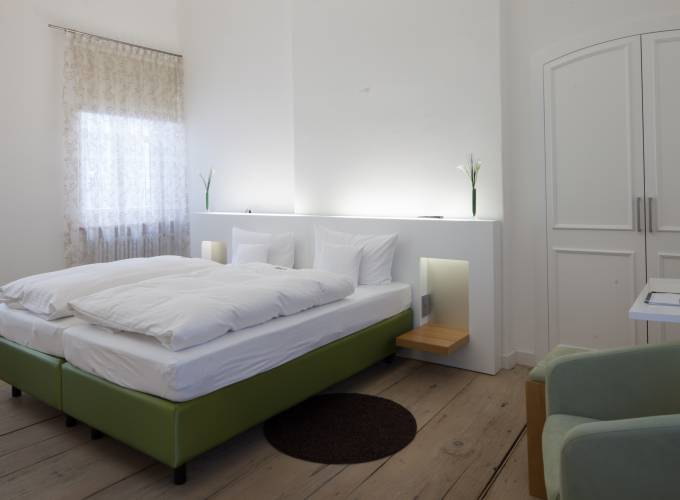 Sleep well and wake up recuperated
Good night...
The most important task of a hotel is making sure that guests sleep well and start the day full of energy – no matter whether it's a day full of holiday activities or filled with meetings. Therefore, we have equipped our rooms with the following amenities to ensure your sleeping comfort. In Haus Hildegard, for example, you can enjoy radiation-free living and sleeping.
In the rooms you can breathe a sigh of relief as an allergy sufferer. Most of the rooms are covered with easy-care oak parquet flooring, allergy-friendly bed linen is available on request. Please inform us about your wishes when booking!
Exception: Since dogs are allowed in the entire complex, we cannot offer animal hair allergy sufferers a low irritant environment.
Simply let us know your wishes using our enquiry form.
Your needs in focus
For optimal recovery
Quiet. Relaxation. Escape from the stress of everyday life. And take some time out away from hectic, networking and numerous negative influences.
Choose a room that is optimally adapted to your needs and take advantage of our many "healthy benefits" for a unique stay with us in Kloster Holzen.
Whether back problems or allergic predisposition: Kloster Holzen offers a suitable solution for many concerns. For example, the right choice of pillow can prevent any problems falling asleep. Or natural sleep is actively supported by a radiation-free environment.